ClimateCraft Custom Air Handling Units are Ideal for Healthcare and Institutional Applications
Healthcare facilities provide essential care for acute and complex conditions – from preventing the spread of disease to providing life-saving emergency interventions. These facilities require a diverse, complex, and interdependent array of HVAC systems and operations.

Institutional applications provide varied and vital functions, ranging from K-12 schools to college and university campuses to centers providing public safety, such as police, fire, and EMS stations. Demands of these facilities vary from ventilating a chemistry lab to housing convicted prisoners.

ClimateCraft is a highly regarded industry leader providing superior custom air handling units – able to meet the most demanding facility requirements. As with all modern HVAC systems, efficiency and reliability are essential to institutional and healthcare clients. ClimateCraft custom air handling units (AHUs) are available in capacities from 4,000 to 200,000+ CFM and offer a range of additional benefits for these challenging and often specialized applications.
Five Reasons to Use ClimateCraft Air Handlers for Your Next Project
1) Modularity, Accessibility, and High-Quality Casing
ClimateCraft employs a specialized precision panel system to construct the air handling unit casing. These panels are insulated and gasketed to prevent thermal bridging and avoid condensation and sweating. The bolted stainless-steel construction achieves extremely low leakage classification and is ideal for high-static applications. This method affords easy access to each casing panel, providing accessibility for future maintenance and allowing individual panel replacement and equipment modularity.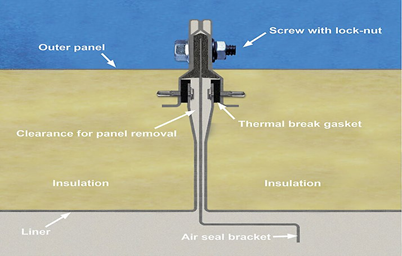 This premier panel casing design provides excellent casing leakage, deflection, thermal bridging, and thermal transmittance ratings at 12" w.g. for ClimateCraft custom air handling units and 8" w.g for semi-custom, with additional static pressure ratings available. The panels also provide a minimum R-value of 13.
2) Robust FanMatrix™ Array
The FanMatrix™ array is a compact fan option available for custom air handling units – providing N+1 redundancy for up to 20,000 CFM per fan tower. The high-quality welded steel construction and individual fan vibration isolation offer an impressive 40-year life expectancy. These compact, high-quality fan arrays achieve higher efficiencies, reduced airway length, and reduced equipment weight compared to conventional fans and standard fan arrays while providing the redundancy and flexibility of this often-preferred option.
3) Highly Effective Filtration
ClimateCraft air filter sections have perimeter gasket seals, minimizing bypass air and maximizing filtration performance. This design provides occupants with a cleaner and healthier environment and allows ClimateCraft air handlers to meet demanding application requirements where air filtration impacts production demands, life safety, and other critical specifications. High-efficiency filtration has a proven history of minimizing cleaning and maintenance needs and maintaining system efficiency and capacity by avoiding coil fouling.
4) Premium Quality Guarantee
All ClimateCraft air handlers are proudly built in the USA with care, attention, and dedication to detail. Confidence in the reliability of these custom air handling units is reflected in the industry-best five-year comprehensive warranty – providing our clients with peace of mind. If issues do arise, dependable manufacturer-based support is readily available.
5) Site-Assembled Replacement Air Handlers
Some installations require a little more ingenuity. ACCESS™ air handlers are expertly engineered and built for retrofit applications requiring on-site assembly – a need typically created by accessibility limitations. These air handlers meet high-performance specifications and the most demanding installation requirements. ACCESS™ from ClimateCraft is a solution to help overcome challenges that otherwise would lead to high project costs or missed schedules in air handler retrofit projects.
About ClimateCraft
ClimateCraft is a high quality manufacturer for custom air handling units, committed to high quality and exceptional performance. Proudly engineered and built in the USA, ClimateCraft air handlers are meticulously designed, constructed, and tested to meet industry standards such as AHRI, AMCA, California OSHPD*, ETL, IBC Seismic*, and Miami Dade County requirements.
With a proven track record, versatile performance, and a range of options available – including semi-custom custom and fully custom air handling units – ClimateCraft air handler are an excellent choice for buildings looking to optimize their new or existing HVAC systems.
Optimize Your Project
Mechanical Resource Group takes pride in representing ClimateCraft and other industry-leading manufacturers.
Contact the experienced professionals at Mechanical Resource Group today to discuss how to meet and exceed the requirements demanded by healthcare and institutional projects.