Aftermarket Parts expertise
MRG provides knowledgeable aftermarket parts professionals with decades of mechanical and electrical field experience ready to help 24 hours a day, seven days a week.
We work with you to identify and provide parts from the best HVAC brands directly from our manufacturing partners. We have over 2,000 items in inventory for your HVAC service needs. If we don't have the part in stock, we'll find it.
Experience means speed to repair
Our aftermarket parts team can save you time and money with a phone call. With years of experience in the field, our parts counter brings expertise and accuracy to help you identify and order the part you need.
We make sure you have what you need while on the job. If you're stuck in the middle of an installation, we can deliver the parts locally, saving you time, disruption, and cost.
Are you looking to replace equipment? MRG has aftermarket application engineers who will review the job and provide replacement equipment options on-site.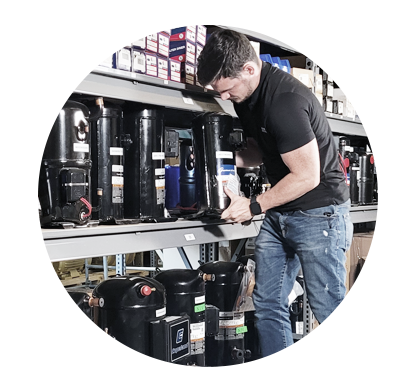 Vendor access
For commodities like coil cleaners, contactors, ductless units, and water source heat pumps (WSHP), MRG has the most extensive available selection. If we don't have it in stock, our team knows how to find what you need.
We also sell our competitors' parts:
Baltimore Aircooling
Marley
Trane
York
RBI
Ready to get started?
When you work with MRG for Aftermarket Parts,
you will find the right part for the project, every time.