We are the leading HVAC solutions provider in Middle Tennessee.
Mechanical Resource Group (MRG) is a family-owned company dedicated to providing equipment and solutions to the industrial and commercial HVAC industry.
With MRG, you have access to more than 30 equipment manufacturers and our team of specialized technical experts, all focused on providing the best solution for your budget, comfort, and sustainability.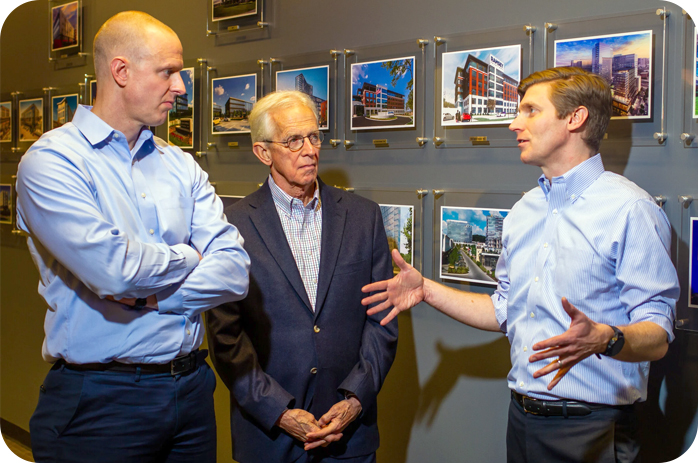 Who We Are
We are a mission-driven company; our associates know that our mission is to "Lead and Serve," and this mindset gives each of us the freedom to think, act, and give back as leaders. This mission guides our behavior corporately and individually.
Our core competencies include new equipment sales, controls, aftermarket parts, service, and maintenance. We work hard to ensure that our clients make informed decisions and that the equipment we provide meets their business purpose regarding redundancy, flexibility, durability, and lifecycle affordability.
Technical Expertise
MRG is known for its ability to solve our clients' most complex challenges, and our technical competency and capabilities set us apart from the competition.
MRG started as a hydronics business and expanded our services into the full-service HVAC provider we are today. MRG is the market leader, dedicated to our mission to serve the client one relationship at a time.
Partnerships and Training
Our network of more than 30 vendor partners is key to our success.
A recognized leader in education and training for the community, MRG is proud to invest in our customers through training. We strive to educate the industry and provide customers with the information and education needed to make confident decisions. We offer on-site training, quarterly symposiums, and free technical training with our Mechanical Pros video series.
MRG is cutting edge in our area for industry training, even down to the fundamentals of the refrigeration cycle"
Tracy England, HVAC Supervisor,
Williamson County Schools.
Innovation,
Industry-Leading Results,
Sustainability
MRG is passionate about helping clients with long-term goals. We have a history of success in providing comfort, reliability, energy savings, sustainability, and creative solutions for budget constraints.
Whether you are just starting to think about sustainability, have an extensive portfolio, need analytics, or are an experienced energy engineer. We understand energy efficiency and can help you save money by conserving energy and water.
Quality and Service
Our 24-hour service offers a deep bench of service technicians ready to respond to your service needs. Your urgency is our mission.
Our quality assurance team works hard for contractors to ensure on-time, error-free projects, and our start-up technicians help ensure systems run as designed.
Our expert team of service technicians enables us to provide personal, dedicated service to every client regardless of the size and scope of your project.
When you need us, we pair you with an expert immediately. We pride ourselves on providing local decision-making, support, and leadership.
Our History
In 2006, David Fruetel purchased Mechanical Resource Group, bringing decades of experience in the HVAC industry. Today, his sons Jon and Matt lead the MRG team.
We continue to be driven by service and a love for what we do. We look forward to being your mechanical resource with a full range of services.
Our Mission


To be the LEADER in each aspect of our businesses. We will attain this leadership by:
Serving our clients as we ourselves would like to be served, with absolute credibility and technical competency, one relationship at a time.
Serving our associates through active training and mentoring programs, encouraging personal and professional growth, growing a company worthy of their career investment.
Serving the larger HVAC community with active involvement in industry associations and developing educational programs.
Serving our carefully selected vendor partners through enterprising management and proactive market pursuit.