Daikin Rebel Applied: A Versatile and Efficient Semi-Custom RTU Solution
HVAC systems in modern buildings must address occupant comfort, ventilation, indoor air quality, and dehumidification, particularly in hot and humid climates. Traditional rooftop units (RTUs) may struggle to meet these demands, while chilled water and hot water central plants can be costly and require skilled technicians for maintenance. Enter the Daikin Rebel Applied™ Rooftop Unit, a semi-custom solution designed to deliver the benefits of a central plant system in a more efficient, configurable, and easily maintained package.
Key performance features of the Daikin Rebel Applied Rooftop Unit include:
• 20 to 52 tons capacity
• 5,000 to 21,000 CFM airflow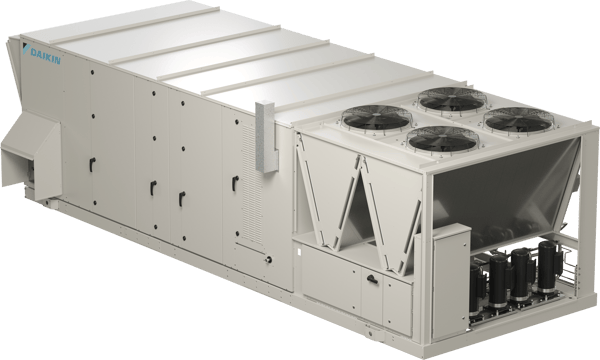 • Up to 20.0 IEER rating
Notable attributes include R-13 double-wall foam insulation with an integral thermal break, available inverter scroll compressor technology, low air leakage casing, a compact and lightweight design, and a modular build for easy retrofitting. The unit also features configurable application components, a MicroTech 4-unit controller, and real-time refrigerant system monitoring for simpler diagnostics and maintenance.
Facilities such as rural hospitals, schools, and low-rise healthcare buildings often face challenges when trying to implement custom HVAC systems. The Daikin Rebel Applied Rooftop Unit offers a semi-custom solution that meets specifications and budget requirements for facilities that cannot support a built-up applied HVAC system. This unit delivers the performance levels required by demanding applications without necessitating a custom-built system.
Five reasons to consider the Daikin Rebel Applied RTU:
1. No need for a custom-built applied HVAC system
The Daikin Rebel Applied Rooftop Unit offers variable-speed inverter compressors, electronic expansion valves for efficiency, and variable-speed fans. It also includes a range of options for economizers, outdoor air, dedicated outdoor air systems (DOAS), variable air volume (VAV) control, dehumidification, air filtration, energy recovery, and various heating configurations.
2. Meeting performance requirements
The Daikin Rebel Applied Rooftop Unit meets or exceeds industry performance standards, including those set by ASHRAE 90.1 and 62.1. Energy savings are up to 43% greater than required by ASHRAE 90.1-2019, with part-load efficiency ratings up to 20 IEER. Energy recovery options, dehumidification, reheat, and variable airflow enable the unit to function as a DOAS, providing properly conditioned outdoor ventilation.
3. Reduced electrical load
The Daikin Rebel Applied Rooftop Unit offers industry-leading electrical usage with high operating efficiencies. The use of inverters, ECMs, and VFDs optimizes the electrical energy consumption of each motor in the unit.
4. Easier maintenance
The Daikin Rebel Rooftop Unit is designed to promote proper maintenance. Hinged access doors, slide-out filter racks, isolated compartments, clear documentation, and manufacturer support simplifying servicing. Direct drive fans and microchannel heat exchangers further streamline maintenance.
5. Life cycle cost-effectiveness
The Daikin Rebel Applied Rooftop Unit is an ideal solution for small to medium buildings, offering performance and efficiency advantages over conventional RTUs while avoiding the capital expense of applied systems. The unit's full- and part-load operating efficiencies yield long-term savings
Daikin Rebel Rooftop Unit
In conclusion, the Daikin Rebel Applied Rooftop Unit provides a versatile, efficient, and cost-effective solution for a wide range of HVAC applications. As a proud representative of Daikin Applied, the world's leading air-conditioning company, Mechanical Resource Group (MRG) invites you to explore the possibilities offered by this exceptional unit.
The experienced team at MRG is available to help you navigate the extensive features and options of the Daikin Rebel Applied Rooftop Unit, ensuring that your facility benefits from a tailored, high-performance HVAC solution that meets your specific needs. Don't hesitate to contact MRG to learn more about how the Daikin Rebel Applied Rooftop Unit can enhance your building's comfort, efficiency, and long-term value.