Daikin FIT Multi - MRG
Exceed customer expectations and streamline project design with the Daikin FIT complete HVAC multi-dwelling unit (MDU) solution.
Daikin FIT makes the best use of valuable real estate. With an industry-leading compact design, Daikin FIT units regain substantial architectural space, providing additional tenant areas on balconies, terraces, patios, rooftops, and indoor living zones.
Innovative technology delivers optimal efficiency in quiet, complete packages - significantly reducing operating costs while creating peaceful outdoor and indoor spaces for enhanced tenant satisfaction.
Consider five reasons why Daikin FIT delivers the ideal complete solution for your multi-unit project.
Dakin FIT is Space Smart - Reclaim Valuable Real Estate
Imagine HVAC design Tetris® style - compact units that are stackable, lightweight, and with minimal clearance requirements. The revolutionary design of Daikin FIT makes this a reality!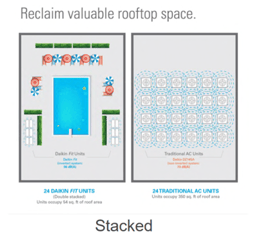 The impressive compact design of Daikin FIT heat pump systems enables flexible layout and unit stacking, reclaiming potentially wasted space, and meeting the demands of projects with strict space limitations.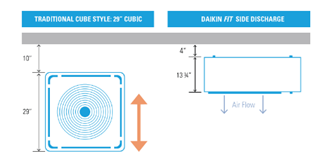 Reduced installation clearance requirements, quiet operation, and low-profile side-discharge design enable design flexibility and maximization of building real estate space.
Additionally, Daikin heat pump units are lighter than conventional units - 122 lbs compared to the typical 274 lbs for 2-ton units - reducing structural weight requirements and expanding installation options.
SAVE WITH Dakin FIT: INVERT OPERATING COSTS
The Daikin FIT heat pump inverter compressor deliver optimal efficiency to significantly reduce operating costs and improve energy savings with over 30% energy reduction compared to conventional non-inverter systems.
Daikin FIT systems are uniquely designed to utilize revolutionary inverter heat pump technology, eliminating the costly supplemental electric heating elements used with traditional conventional split systems.
Elevated Tenant Experience With Daikin FIT: Whisper Quiet Dehumidification
With Daikin FIT, you don't have to trade comfort for optimal efficiency.
Your average dishwasher runs around 50 dBA, and conventional SEER single-stage units at 50-60 dBA. Daikin FIT variable fan speed heat pumps operate as low as 45 dBA, significantly enhancing acoustic comfort.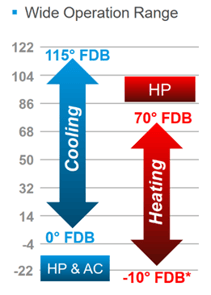 Daikin FIT units also eliminate humidity complaints and keep your occupants comfortable in any region across North America.
Three humidification levels allow tailored setup based on geographical regions and humidity levels – an all-in-one product suitable for multiple environments.
No other residential system offers the flexibility in configuring and changing dehumidification settings. Daikin FIT makes configuring the compressor and indoor blower speed easy to maximize the evaporator coil temperature while minimizing airflow – optimizing dehumidification and tenant satisfaction.
The Perfect FIT for Modular Design
Multi-family facilities present unique design challenges, especially with the tight space requirements typically found in mechanical equipment closets.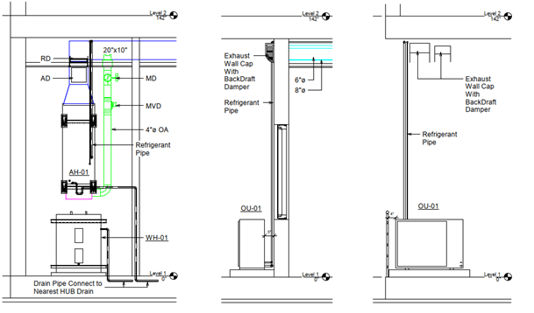 Daikin FIT's compact HVAC packages with a stand, air handling unit and water heater fit neatly into a single mechanical closet – with a minimal total footprint.
Daikin FIT's flexible, innovative technology offers a complete packaged solution – saving time and space, as well as multiple equipment integration and coordination.
The straightforward, modular design can easily be replicated on every floor, relieving pressure on design specifications.
Daikin FIT is a Contractors Partner
Daikin FIT systems simplify installation in new build and retrofit projects.
The complete, flexible packages, including a stand, air handling unit, water heater, air condition units, or heat pumps, save time and the hassle of individual product sourcing.
On-site installation is a breeze. Existing line sets can be used, low-profile and lightweight designs make for easy carrying in tight spaces, and braze connections are fast and uncomplicated. A simple 2-wire easy install streamlines terminations, and a straightforward system configuration enables completing unique projects efficiently.
Find the Ideal FIT with MRG
If you want to optimize your operating costs, simplify installations, and save space, contact MRG to plan your next project.