Quality Daikin Water Source Heat Pump (WSHP) Distributors
MRG Is Your Stocking Distributor for Daikin Water Source Heat Pumps.
A Daikin water source heat pump (WSHP) is reliable, dependable, and should last 15-20 years. However, all HVAC equipment eventually requires service and repair. Returning the equipment to service fast is critical to restoring operations. Owners, operators, and technicians need the right parts – available and in stock – to make repairs quickly. MRG is the dependable partner you need to provide the Daikin WSHP equipment or parts you are looking for – quickly and efficiently.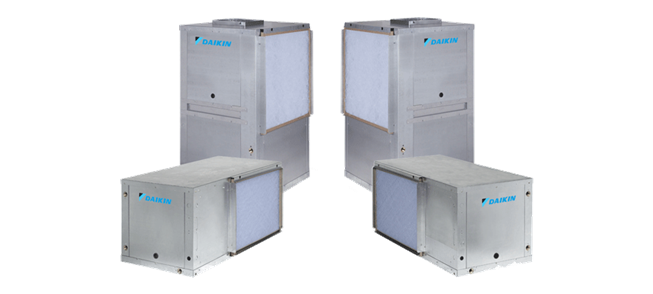 WSHPs have a proven track record as a solution for many commercial HVAC applications, especially where energy efficiency is vital. Many schools, universities, office buildings, hospitals, healthcare facilities, hospitality, and assisted living care homes value the benefits of water source heat pumps. Daikin is well-established as a leading water source heat pump manufacturer, with a comprehensive base of installed equipment.
The team at MRG rapidly sources the Daikin WSHP you need for same-day repairs, maximizing efficiency, technician availability, and profit.
Daikin Water Source Heat Pumps – 5 Reasons to Rely on MRG
Daikin WSHP systems offer several advantages with their decentralized approach. One key benefit is their ability to provide individual control and comfort to different spaces within a building. By having multiple units distributed throughout the building, occupants can adjust the temperature according to their preferences, leading to enhanced comfort and energy efficiency through comfort zoning.
Extensive Inventory: MRG maintains an inventory of in-stock parts and replacement units for Daikin water source heat pumps. We aim to have the part you need in stock and ready to go and we can source your parts if we don't have them on a shelf.





Same-Day Service: Let us help you save valuable time by quickly getting the right part into your hands. MRG strives to minimize downtime and the turnaround time required to begin repairs.





Best-Value: MRG maintains competitive pricing for service parts and equipment.





Speedy Response: We aim to provide the fastest response time. MRG maintains a full staff dedicated to responding to your inquiries. These knowledgeable and available team members are standing by to respond quickly to your email, locate the needed parts, answer your questions, and assist in completing same-day orders.





The Right Choice: Complete repairs properly and thoroughly the first time. Don't waste time jury-rigging or repairing broken parts – replace the damaged component with an OEM replacement and return the equipment to full capacity, efficiency, and reliability. MRG will help you source the right part or replacement unit needed.
Reliable Daikin WSHP Parts & Replacement Services
MRG is your reliable partner for Daikin water source heat pump equipment and parts. We maintain an inventory of competitively priced replacement units and parts, and have a team of knowledgeable people ready to assist you quickly and fulfill your order. With MRG as your partner, you can minimize lost time and disruption to facility operation by completing same-day repairs.
Make MRG your first and last call for Daikin water source heat pump parts and replacement units. We have them in stock and ready to purchase today. Contact the MRG parts counter team for competitive pricing and to place an order at 615-921-4700 or email partscounter@mechanicalresource.com.