Mason Industries Floating Floor System for Noise and Vibration Isolation
MRG: UNLOCKING SERENITY IN LIMITED SPACES
In tight quarters, creating functional and tranquil environments can be challenging, especially when cohabitating with noisy and vibrating distractions. The solution lies in floating floors, which allow recording studios to sit peacefully next to buzzing mechanical rooms or fitness centers above elegant ballrooms. As real estate prices soar, the importance of isolating spaces from their surroundings becomes even more valuable and achievable with Mason Industries Jack-Up Floor System.
As real estate costs continue to rise, engineers confront a dilemma: create compact buildings with maximum use of space alongside demanding Sound Transmission Class and Impact Noise Rating. A sophisticated solution like the mason jack-up floor system is required.
For example, a hotel design may be looking to place a ballroom, a weight room, and a yoga room close together, allowing each space to function as intended and without disruption from its neighbors inside and outside: busy streets, trains, and subways. Or, it may be a challenge common in Nashville - live performance venues may be close to quiet work areas or recording spaces.
Mason Industries Inc. offers the keys to meeting such a challenge: ideal systems for floor, wall, and ceiling isolation, scalable to match your project demands. The industry-leading Mason Jack-Up Floor System is renowned for isolating even the most demanding applications.
Consider five reasons why Mason's Jack-Up Floor System delivers the ideal solution.
Mason Industries are Specialists in Noisy Neighbors
Mason Industries has been researching, specifying, constructing, and educating the industry regarding sound, vibration, and impact isolation for decades and have literally "written the book" on isolation specifications and success. First published in 1962 and further developed, refined, and expanded over the decades, Mason Industries' engineering specifications are thoroughly tested and rigorously proven in the most demanding applications.
Raising the Floor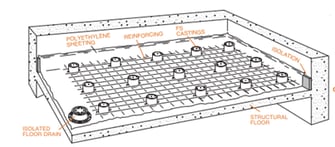 The Mason Jack-Up floor slab has a unique design. The jack-screw lifts the floor and this floating floor achieves the principal isolator: an air gap. This air gap provides exceptional noise, vibration, and impact isolation. The floating slab thickness and the air gap size can be customized from 1" to 4" to match the application requirements.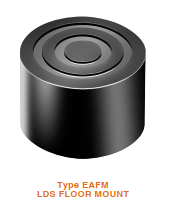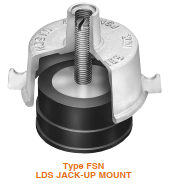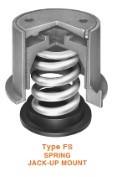 Jack-UP Mounts are also available in three options: FSN, FS, or EAFM. See the full construction sequence here: Jack-Up Sequence
The Mason Floating Floor System Provides Dynamic Performance
Specialized Mason's Low Dynamic Stiffness rubber (LDS) is used to manufacture their Jack-Up mount supports for the floating floor. LDS is a time-tested, low-frequency, and exposure-proof structural material at a lower cost. While other soundproofing methods use multiple, closely spaced supports that can let sound through, Mason Industries revolutionary system relies on LDS rubber for floor support, ensuring a more effective soundproofing application by absorbing the spaces frequencies.
Mason Industries Provides Superior Value
Soundproofing is enhanced using fewer support points (high-deflection free-standing spring isolators), as this decreases the number of potential sound transmission paths. All this is achieved without adding significant weight or cost, addressing the isolation effectiveness and the customer's budget concerns.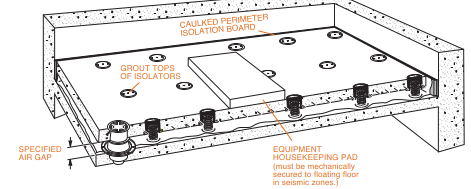 The Floating Floor System Keeps the Noise Down
Mason Industries understands the impact of diverse noise and vibration sources on various design environments. A full range of solutions is available for challenging design projects, including acoustical wall shields and floor mounts, acoustical caulking, and concrete or wooden floating floors.
Mason Industries specializes in subway, railway, and heavy traffic noise and vibration isolation. An array of customizable solutions prevents downward or upward vibration transmission and provides complete building isolation and superior sound insulation.
Amplifying Your Silence: MRG & Mason
At MRG, we realize that creating spaces isolated from noise and vibration in the surrounding environment is a critical challenge for you as a designer. In partnership with Mason Industries, MRG can help you design the most efficient, reliable, and cost-effective solution for a building's sound insulation and impact noise reduction.