Heat Transfer Solutions with DHT: Engineering Excellence with Common Sense Controls
Headquartered in Towaco, New Jersey, Diversified Heat Transfer (DHT), Inc. takes pride in championing American manufacturing traditions. Their operations, including engineering, design, manufacturing, and production, all happen right here on American soil.
Diversified Heat Transfer Inc. is reimagining the heat transfer landscape and remains committed to delivering engineered heat transfer products designed with practicality and reliability at their core. Their solutions are integral to operations in places like hotels, hospitals, and university dormitories, which require reliable and efficient indirect, unfired solutions for Domestic Hot Water (DHW) heating.
Indirect Hot Water Heating Problems, Solved.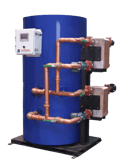 Diversified Heat Transfer Inc. is committed to improving the legacy of design. By studying the evolution of heat transfer systems, identifying problem areas such as hard-to-replace tube bundles, or scalding risks associated with only monitoring leaving water temperature, they have been able to collaborate with clients to understand their specific constraints and develop common sense solutions. This approach has led to the creation of products that promise straightforward installation and operation.
Redefining Indirect Hot Water Heating: The SP and ST Series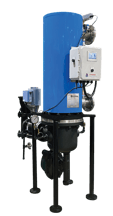 The SP series plate Heat Exchanger (HX) instantaneous water heater and the ST series shell and tube HX semi-instantaneous water heater are the centerpiece of DHT's indirect hot water heating solutions. Both series present a range of advantages including simplified inspection and maintenance, and noticeable operational improvements.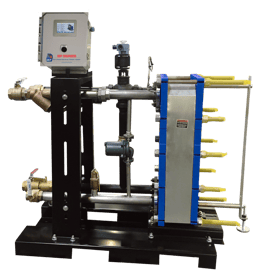 The SP series offers a choice between a plate-and-frame or brazed-plate heat exchanger, designed for ease of maintenance. The ST series, on the other hand, introduces the versatility of either a vertical or horizontal installation. This flexibility in design conserves critical floor space and simplifies retrofits or refits. Specifically, the vertical option requires a mere four-square foot, with no overhead service clearance, making it a practical solution even for tighter spaces. Both series prioritize user-friendly servicing, with key components easily removable for inspection or replacement.
The DHT Difference: Differentiated by Design
Since day one, Diversified Heat Transfer Inc. has displayed an unwavering commitment to excellence, evident in their unparalleled track record of avoiding the need for remanufacturing. Their meticulous attention to designing faster modulating control values, and faster operating controllers, combined with unwavering dedication to getting it right from the outset have resulted in robust systems that have remained unchanged since their initial implementation. Instead of just reacting to the leaving water temperature, the equipment actively monitors and adjusts to the entering water temperature, a crucial variable for the users. Intelligent controllers featuring digital feed forward technology help the SP and ST units to navigate challenges arising from fluctuations in source fluid temperature and flow. This remarkable achievement sets Diversified Heat Transfer Inc. apart from competitors, ensuring that engineers and building owners benefit from reliable, and efficient solutions that deliver exceptional performance consistently.
Safety and User Satisfaction: Top Priorities
The SP and ST equipment from Diversified Heat Transfer Inc. consistently delivers desired temperatures, ensuring demands are met accurately and the risk of scalding is mitigated. This reliability translates into greater user satisfaction, improved safety, and reduced liability for owners - making their equipment the preferred choice for engineers and building owners of hotels, universities, and hospitals, seeking optimal operations and a viable replacement option.
Maintenance Made Easy for Extended Equipment Life
Direct Heat Transfer's heat exchangers are designed with ease of servicing and replacement in mind. Despite the inevitable accumulation of sediment, scale, and fouling, the design allows for the heat exchanger to be removed, inspected, cleaned, and replaced without any disruption to the system or re-piping, thus assuring longer equipment life and ease of replacement.
Advanced Control for an Elevated User Experience
Diversified Heat Transfer's non-proprietary electronic controls are tailor-made for hot water heating applications, offering quicker, more accurate, and predictive performance than conventional controls in the market. These controls are optimized for the application and are easy for operators and technicians to use, featuring a user-friendly color touchscreen interface that provides real-time data readouts, trending alarms with time/date stamping, and simplified service and diagnostic controls. Additionally, the controls come with an integral BACnet and Modbus interface, facilitating easy integration into building automation systems.
Unmatched Quality Control and Performance
Diversified Heat Transfer Inc. has set a high bar for manufacturing standards by overseeing each aspect of production, from creating heat exchangers to developing common-sense touch screen electronic controls, which include BacNET integration that facility operators find incredibly convenient. This end-to-end, in-house approach allows them to maintain superior quality control and visibility.
Discover DHT's Superior Heat Transfer Solutions
Diversified Heat Transfer Inc. stands at the forefront of the industry, offering top-notch indirect, unfired hot water heating equipment that is 100% designed and manufactured in the USA. Get in touch with MRG to explore our innovative and dependable hot water heating solutions.