Alfa Laval Heat Exchangers enhance system performance
Experience Unparalleled Efficiency with an Alfa Laval Heat Exchanger
Heat exchangers are an integral part of mechanical systems, serving a simple yet crucial purpose. Selecting the right heat exchanger can significantly enhance a system's efficiency, capacity, and reliability, while a poor choice may lead to increased maintenance and operating costs. As a global leader in heat exchange technology, Alfa Laval has pioneered a variety of innovations, including the AlfaQ™ gasketed plate-and-frame heat exchanger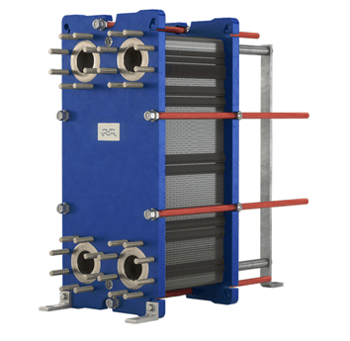 (GPHE).
Understanding Alfa Laval Heat Exchangers
Heat exchangers facilitate the transfer of heat between two fluids without mixing them. Key design objectives include maximizing heat transfer by increasing the surface area between fluids, minimizing pressure drops, and reducing the overall size to save floor space. Several liquid-to-liquid heat exchangers have been developed for specific applications, including tube-in-tube, shell-and-coil, and shell-and-tube. Among these, the gasketed plate-and-frame heat exchanger offers numerous advantages. One of those advantages is that Alfa Laval was the first to offer a broad range of heat exchanger innovations – the AlfaQ™ range – that are certified to AHRI 400. Alfa Laval has accomplished a 100% success rate in the AHRI performance certification program for more than a decade. The AlfaQ™ Series are part of our gasketed plate heat exchanger portfolio.
Gasketed Plate and Frame Heat Exchangers Explained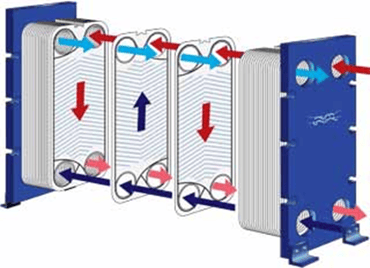 A GPHE consists of several thin plates assembled together, with fluids flowing between alternating sides. This configuration provides a large heat exchange surface, maximizing efficiency. Elastomeric gaskets are fitted on each plate to seal and prevent fluid mixing.
Each plate features patterned channels that guide the flow of media. The plate pack is sandwiched between a stationary frame plate and a movable pressure plate, held together by long bolts. Stainless steel is commonly used for heat exchanger plates, with corrugated and chevron-style channels ensuring optimal heat exchange efficiency.
The Impact of Plate Patterns on GPHE Efficiency
The design of plate patterns significantly affects GPHE efficiency. Selecting the appropriate pressing depths, corrugation patterns, and chevron angles optimizes heat exchanger performance. Ensuring evenly distributed flow across the plate surfaces and avoiding stagnant zones are crucial factors. The ideal selection takes into account both turbulent flow and pressure drop considerations.
Alfa Laval Gasketed Plate-and-Frame Heat Exchanger Benefits
Reduce Energy Usage: Alfa Laval GPHEs are up to five times more efficient than conventional shell-and-tube designs. With approach temperatures as low as 1°F, these gasketed plate-and-frame heat exchangers can substantially improve system performance.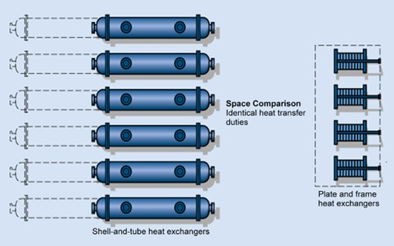 Save Mechanical Room Space:

The compact design of Alfa Laval GPHEs allows for more efficient heat transfer in a smaller volume, reducing floor space requirements and installation costs.

Simplified Maintenance: Alfa Laval GPHEs can operate for years without maintenance, thanks to the high degree of turbulence created by chevron corrugations. When maintenance is required, the serviceable nature of GPHEs simplifies tasks such as inspection or cleaning.
Capacity Adjustment: The modular design of Alfa Laval GPHEs enables the addition or removal of plates as needed, accommodating planned or unexpected growth.
On-Site Assembly: Alfa Laval GPHEs can be assembled either in the factory or on-site, allowing for flexibility in challenging retrofit applications.
AHRI Performance Certified: Alfa Laval was the first to offer a broad range of heat exchanger innovations – the AlfaQ™ range – that are certified to AHRI 400. Performance certification verifies that the product performs in accordance with the manufacturer's published ratings, and is particularly useful in applications such as district cooling substations, ice-storage systems, data centers and free cooling systems.
Specify the Best Heat Exchangers with Alfa Laval
Gasketed plate-and-frame heat exchangers, like those from Alfa Laval, offer multiple advantages and are ideal for applications with low approach temperatures – they are nearly universal in free cooling applications using cooling towers and dry coolers. Alfa Laval provides a broad portfolio of GPHEs, including the AlfaQ™.
Alfa Laval's broad product portfolio includes AHRI 400 performance-certified options, ensuring reliable operation. Explore Alfa Laval GPHEs and learn more about their features and benefits by visiting https://www.alfalaval.us/microsites/gasketed-plate-heat-exchangers/.
Mechanical Resource Group proudly represents Alfa Laval and operates state-of-the-art manufacturer-provided selection software. Don't hesitate to contact us to learn more about the features and benefits of Alfa Laval gasketed plate heat exchangers.