Riello Boilers | Riello Array Boilers - MRG
Deliver on your promise of optimal client comfort while reducing maintenance costs with the exceptional reliability and redundancy of Riello boilers.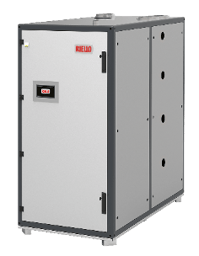 Riello boilers provide safe, sustainable, smart commercial solutions for new and retrofit projects, ideal for office buildings, K-12 schools, apartment complexes, fitness centers, and recreation centers.
Riello Array boiler's compact design saves valuable real estate, and the minimal noise generated keeps occupants happy.
Consider five reasons why Riello boilers are world-renowned for comfort, sustainability, and performance.
Your Ship never goes down with riello boilers
Imagine never leaving your clients in the cold. With their multi-boiler setup, Riello Array products guarantee uninterrupted comfort. Each independent module is stand-alone, ensuring continued boiler operation when adjacent modules suffer a failure, are serviced or are removed.
Compared with well-known competitors, Riello boilers are designed with multiple heat exchanger modules, providing high turndown (up to 40:1 per boiler and 320:1 per cascaded system) and unparalleled built-in redundancy in one packaged unit. A single Array Riello boiler offers uptime reliability typically only available in larger built-up boiler plants and multi-boiler systems.
Riello's advanced design delivers consistent performance, quality, and superior reliability – with industry-leading longevity offering an optimal return on investment long-term.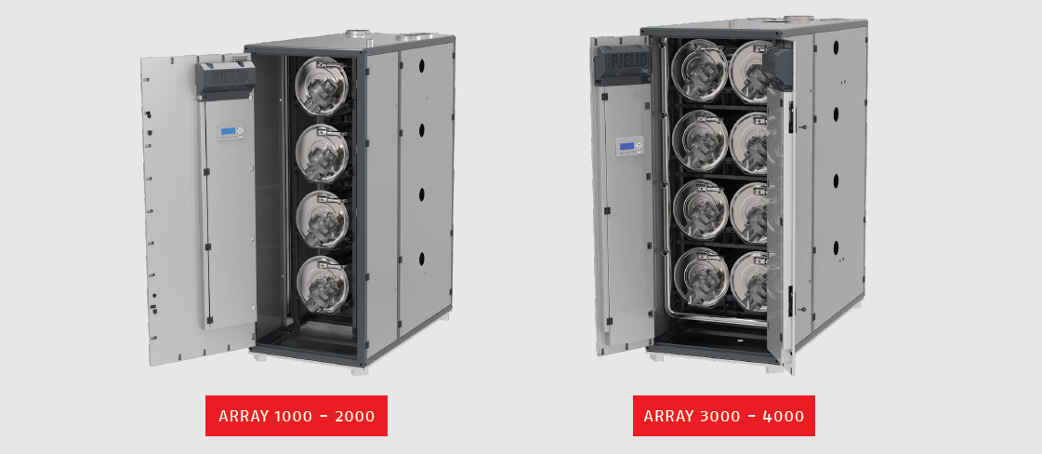 riELLO BOILERS HAVE NEARLY ZERO DOWNTIME
Your clients deserve the best, and you deserve hassle-free maintenance. Riello's redundant design ensures nearly zero downtime during service interruptions, always keeping your customers comfortable.
The industry-leading array configuration delivers reliable performance, enabling module maintenance while the adjacent modules remain online, providing heat.
All models use many interchangeable components, simplifying parts inventory and sourcing. Most critical parts are non-proprietary and commonly available.
The Array's notable roll-out heat exchangers allow easy removal, service, and maintenance. An independent service interface helps your service techs troubleshoot easily and quickly – saving time and money.
pEAK CAPACITY
Enhance energy savings without compromising on comfort.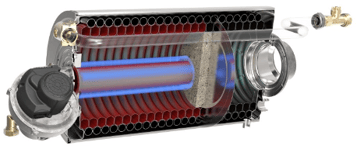 Riello Array's cutting-edge condensing technology and proportional control deliver clean, efficient combustion - and lower utility bills.
The patented Riello heat exchanger provides optimal heat transfer, delivering increased fuel savings and lower operating costs. In addition, Riello's proprietary control algorithm provides accurate temperature control while maximizing efficiency.
rIELLO pRODUCTS ARE A contractor'S ALLY
Eliminate the headache of heating failure callbacks with Riello products. Provide your clients with peace of mind and build your reputation for reliability.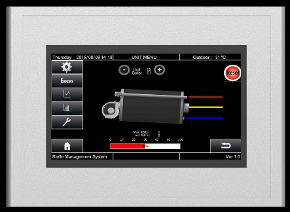 Riello products appreciate your valuable time. Array boilers are configured for ease of installation and commissioning, with minimal training needed.
The Array's single platform design simplifies commissioning, regardless of the output required, with a user-friendly touchscreen interface enabling detailed troubleshooting, delivering swift and seamless installations and servicing.
STAY AHEAD OF THE CURVE WITH MRG
Avoid getting burned with six-month-long lead times. We have your back!
Mechanical Resource Group has Riello boilers in stock and ready for same-day pickup or delivery.
If you need a consistently reliable partner for your application, contact our MRG parts counter team for competitive pricing, quantities, and availability of Riello Array boilers at partscounter@mechanicalresource.com