DAIKIN VRV Systems: A Path Forward for HVAC
The field of HVAC is experiencing rapid and profound change. The industry is embracing green sustainability - reducing energy use and emissions while providing exceptional temperature, humidity, and indoor air quality control. Building owners require outstanding warranties, predictable operating costs, and reliability. Engineers, architects, designers, and contractors can look to Daikin VRV systems for a well-rounded solution.
An all-electric, ductless system is ideal for all new and retrofit commercial vertical markets - retail, office, multifamily, hospitality, healthcare, worship, and education, as well as a great solution for historical retrofit applications where maintaining the building's existing design and architecture is important. Daikin provides this solution through Variable Refrigerant Volume (VRV) systems, leading the world in developing and innovating this technology. At the heart of VRV systems & technology are Daikin's inverter compressors that ramp up and down, expending only the energy needed to meet the cooling or heating load desired.
Today, VRV systems - also referred to by other manufacturers as variable refrigerant flow (VRF) - are tackling some of North America's most complex HVAC challenges. As the search for the best HVAC solution continues, Daikin VRV systems aim to perfect the occupant experience and make precision comfort a reality.
VRV SYSTEMS ProviDe Ultimate Satisfaction
Daikin VRV systems & design provide year-round energy-efficient heating and cooling performance in all climates and offer variable capacity and refrigerant flow to deliver high efficiency comfort and an overall reduction in cost of ownership.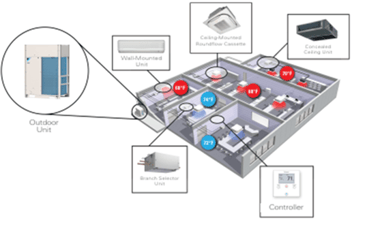 Incorporating an air cooled VRV solution requires minimal space and avoids the need for extensive hydronic water piping or ductwork, minimizing initial construction, and total building costs. Additionally, one section of VRV systems can be commissioned while the building remains under construction, benefiting project timelines and accelerating occupancy when construction will be completed in stages.
VRV Systems transfer unwanted heat from one space to another space. This heat transfer is more efficient and economical than simultaneous heat rejection and heat generation using separate equipment. Individual zone control allows occupants of each space to set the room temperature for their preferred comfort level, providing ideal, customized comfort for each zone.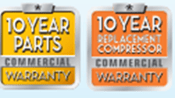 The outstanding 10-Year Parts Warranty* and 10-Year Compressor Replacement Warranty* provides owners, managers, and occupants peace of mind while ensuring less maintenance and service cost savings. Most local utilities also offer rebates that building owners can take advantage of to offset the premium investment of Daikin VRV units.
Why Select Daikin VRV Systems?
Reason 1: More Comfort, More Control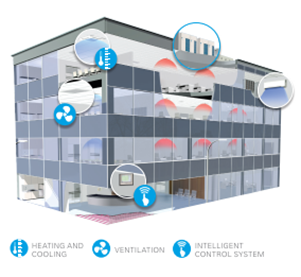 VRV systems modulate over a wide range of capacities allowing for optimized performance, steady-state efficiency, and dehumidification.
Conventional equipment is selected for peak heating and cooling loads. Conventional systems typically cycle on and off at full speed for the bulk of the year, or require inefficient capacity unloading, resulting in temperature and humidity fluctuations in the conditioned space.
VRV systems provide optimal comfort and control by fully modulating their heating, cooling, and dehumidification capacity to match only the heating or cooling load needed, adapting to variables such as occupant activities and solar heat gain. Each zone receives exactly what is needed to maintain the ideal environment. A VRV system will ramp up its speed to meet the thermostat's setpoint, but as it gets closer to the setpoint, the system will ramp back down and run only at the speed necessary to maintain each individual zone's desired comfort level. This slower, more consistent output minimizes temperature fluctuations and provides greater dehumidification due to the longer, slower run-time.
Reason 2: VRV Systems are The Ideal Retrofit Solution
HVAC systems often face obstacles with retrofits and upgrades. With many different styles of both ducted and ductless indoor models available for different application needs, VRV systems provide the ultimate in design and application flexibility and are minimally invasive. Outdoor air cooled unit(s) can be installed on the roof or at ground level with interconnecting, small refrigerant lines to the indoor units, easily installed in ceiling spaces, wall cavities, and chases with minimal space requirements.
The ease of both retrofit and new construction using Daikin VRV systems makes them one of the best choices for challenging upgrade applications with a mix and match of ductless and ducted solutions.
Reason 3: Silence Beyond the Library Whisper
Daikin VRV systems are inherently quiet – both inside and outside the building. Operating speed is reduced due to the variable-speed fans and inverter compressors running only at the required capacity necessary to meet the heating or cooling load. Anyone looking for a peaceful environment will appreciate the optimized fan impellers and noise suppression technologies.
The best HVAC system is the one no one notices, and Daikin VRV systems delivers precisely that.
Reason 4: Embrace Sustainability
HVAC systems are significant energy consumers and carry a substantial environmental footprint. Responsible owners, engineers, and designers wanting to reduce energy consumption and environmental impact desire decarbonization and electrification. Daikin VRV systems are the perfect match.
VRV systems are 100% electric. As a result, no fossil fuels are consumed to provide heating, minimizing building carbon output, and helping owners meet current and future regulations surrounding energy sources.
VRV systems are typically 30% more efficient than conventional solutions, reducing total operating costs and providing benefits for decades. Also, the modulating capacity of VRV minimizes equipment cycling and peak electrical consumption – which utility providers recognize. For example, TVA provides a $250 rebate per ton of refrigeration capacity converted to VRV.
Reason 5: Daikin VRV Systems: Performance Redefined
Daikin VRV systems deliver premium performance – highly efficient, environmentally responsible, customizable, flexible, comfortable, and economical. For building owners, architects, engineers, designers, and contractors looking for the best HVAC, Daikin VRV is the answer.
Daikin VRV is Your Solution
Are you searching for an all-electric, high-efficiency option for your HVAC? Contact the experts at MRG, and let us help you! MRG is proud to represent Daikin VRV, and our knowledgeable staff can help you find the exact system which will match your building's needs precisely.