HVAC Refrigerants: Stay Cool this summer with unbeatable prices at MRG
On the hunt for HVAC refrigerant for your upcoming commercial job? Cast your line with Mechanical Resource Group (MRG). We're your catch for best prices on R410A, R407C, R134, and Bluon. Stock up now to ride out anticipated summer price waves. Our commitment at MRG is to offer competitive pricing on HVAC refrigerants to ensure your systems and business run smoothly.
MRG Parts Counter: Your One-Stop Dock for HVAC Refrigerant Needs
Our expert team provides personalized service and in-stock HVAC refrigerant options, guaranteeing you the best prices this side of the Mississippi. Whether you're a contractor seeking bulk refrigerant or a service technician aiming to cut down time spent navigating multiple supply houses, we've got you covered.
Navigating from one supply house to another can be as frustrating as finding your best friend at your secret fishing hole on Kentucky Lake. That's why we offer a one-stop experience for our customers to get parts and refrigerants, all while ensuring competitive pricing. We understand that different systems require specific HVAC refrigerants, which is why we offer a variety including R410A, R407C, R134, and Bluon.
When it comes to refrigerant, you want to ensure you're getting the best product for your customer's system without overpaying. At MRG, we take pride in our industry expertise, providing top-quality service, competitive pricing, and crappie fish puns.
HVAC Refrigerant SUMMER Promotion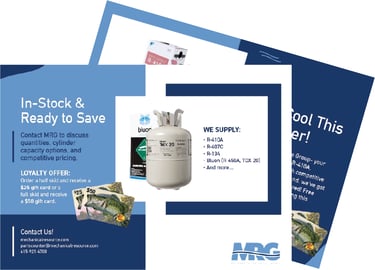 This May and June, we're running a gift card promotion. Hook a $25 Bass Pro Shop Gift Card with a half skid order or net a $50 gift card with full skid orders. Additionally, we offer free freight with a full pallet of refrigerant.
Now is the perfect time to stock up, save, and add a little extra to your pocket just in time for fishing season. Don't miss your chance to snag a Bass Pro shops gift card with a qualifying refrigerant purchase until the end of June. We don't always make fish puns… but when we do, it's just for the halibut
Contact MRG for Your Summer HVAC Refrigerant Needs
If you're in need of refrigerant for your HVAC system, drop anchor at Mechanical Resource Group and benefit from our gift card promotion running until the end of June. Contact our parts counter team for competitive pricing, quantities, and to place an order at 615-921-4700 or PartsCounter@mechanicalresource.com.